Print will lose even more US ad spending share than previously forecast but remain on top, while online is set to grab the second-largest slice of the ad spending pie this year, according to estimates by Myers Publishing.
2009 will be the first year that ad spending online is greater than local and national spot TV, with online expenditures rising from 10.6% of the total in 2008 to 12.2% this year. The rise in market share will occur despite a 0.5% drop in spending forecast for online in 2009, to $24.55 billion.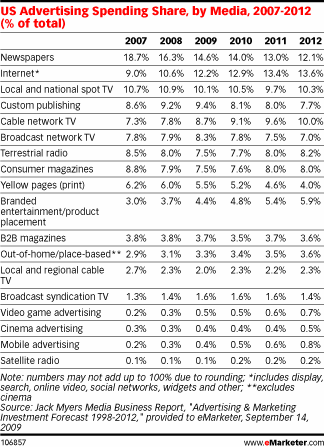 Myers predicts online's share will continue to climb, hitting 13.4% in 2011 - when it will surpass print to become the top medium - and reaching 13.6% of total ad spending in 2012.
The fastest growth in 2009 is expected to occur in video game advertising, at 12%, followed by mobile (9%). Branded entertainment/product placement and satellite radio advertising will inch upward.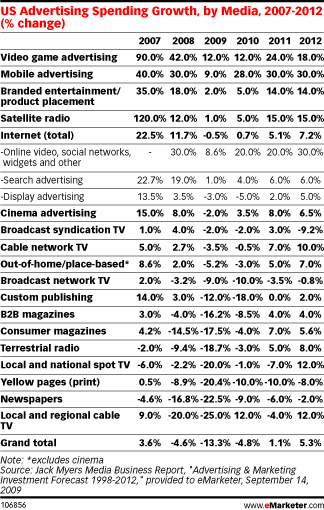 Internet ad spending will start climbing again in 2010, with 0.7% growth, picking up the pace to see 5.1% and 7.2% gains in 2011 and 2012, respectively.
The picture is much less rosy for total US advertising spending, expected to drop 13.3% this year. Myers' previous forecast, from May 2009, projected only a 12.1% decrease. The firm pegs next year's decline at 4.8% (revised upward from a 5.1% drop), with recovery beginning in 2011, at 1.1% growth. US advertising spending is expected to increase by 5.3% in 2012 to nearly $205 billion.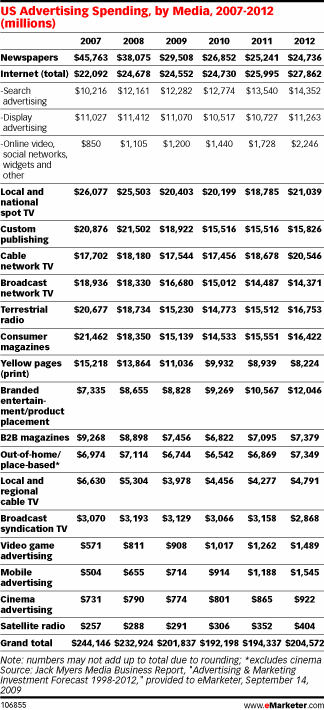 The rebound will be led by strong growth in Internet, TV, satellite radio, mobile and video game ad spending. In the online sector, video/social network spending is projected to post the fastest growth rates, followed by search.
eMarketer projected in April 2009 that total US ad spending would drop 8.2% this year, and that online spending growth would stay positive, rising 4.5%.