comScore reported holiday season retail e-commerce spending for the first 48 days of the November – December 2011 holiday season. For the holiday season-to-date, nearly $32 billion has been spent online, marking a 15-percent increase versus the corresponding days last year. The most recent week (week ending Dec. 18), led by four individual days surpassing $1 billion in sales, reached an all-time record of $6.3 billion in online retail spending, up 14 percent from the corresponding week last year. The final shopping weekend before Christmas reached $1.04 billion to rank as the second heaviest weekend of online spending on record.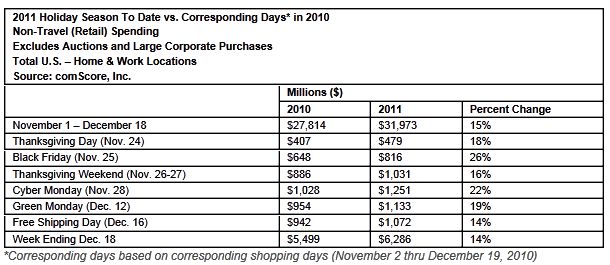 "The final big week of online holiday shopping remained strong throughout, with four days surpassing $1 billion in sales and the second heaviest online shopping weekend on record," said comScore chairman Gian Fulgoni. "With only a few more days until Christmas, the preponderance of Americans' late season holiday shopping will shift to brick-and-mortar retail, although the procrastinators among us will still be able to take advantage of expedited shipping and buy online up to and including the day before Christmas Eve with the guarantee of having their gifts delivered in time for the holiday. In total, we will see another $5 or $6 billion in e-commerce spending over the remainder of December to finish off what has clearly been an outstanding season for online retailers."
Ten Online Spending Days Top $1 Billion this Holiday Season
For the 2011 holiday season-to-date, ten individual days have surpassed $1 billion in online retail sales. Cyber Monday (Nov. 28) currently ranks as the heaviest online spending day of the season – and in history – at $1.251 billion. Monday, December 5 ranks second at $1.178 billion, followed by Green Monday (Dec. 12) in third with $1.133 billion. Free Shipping Day (Friday, Dec. 16) ranks sixth at $1.072 billion.